How many ounces are in 750 ml? This is a question that's frequently asked by those who cook and bake regularly—especially when the recipe calls for either an exact amount of liquid or an approximate equivalent. From kitchen measurements to cocktails, understanding how to convert between metric volume measurements like milliliters (ml) and customary U.S. volume measurements like fluid ounces (fl oz) is essential for getting desired results every time.
In this blog post, we'll look at why these conversions matter, what you need to know about different measurement systems, and provide you with step-by-step instructions on making the conversion from 750 ml to fl oz so you can tackle any recipe with confidence!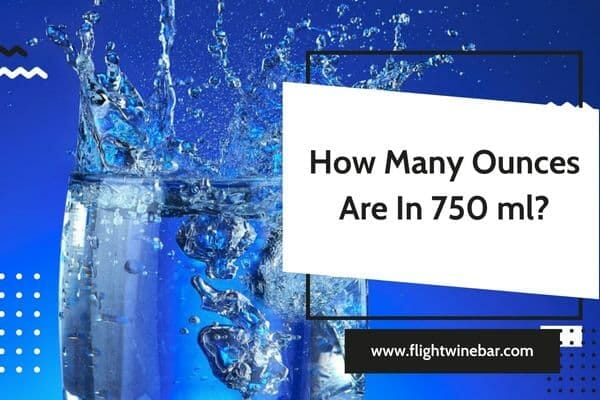 How Many Ounces Are In 750 ml?
Knowing how many ounces are in 750 mL can be helpful for measuring drinks, such as spirits. It can also help you accurately calculate alcohol by volume (ABV) or proof of a drink. The equivalent of 750 mL is 25.36 fluid ounces, which means that there are almost 17 shots in a bottle — if a shot glass holds 1.5 ounces of liquid.
Having knowledge of these measurements can be useful when mixing drinks, stocking your bar cart, or making sure you don't over-serve guests! Understanding the basic conversion between ounces and milliliters will ensure accuracy when measuring beverages in both imperial and metric systems.
It's important to note that ounces in this context are referring to fluid ounces, which is a measure of volume and not weight. Therefore, the same amount of liquid should be used regardless of the system you're using — though measurements may vary slightly due to variations in density. Additionally, different ingredients may have different weights per unit volume, so the number of ounces could change depending on what you're measuring.
| | | |
| --- | --- | --- |
| Bottle Size | Ounces | Shots |
| 50ml | 1.7 | 1.1 |
| 100ml | 3.4 | 2.3 |
| 200ml | 6.8 | 4.5 |
| 375ml | 12.7 | 8.5 |
| 700ml | 23.7 | 15.8 |
| 750ml | 25.4 | 16.9 |
| 1 L | 33.8 | 22.5 |
| 1.75 L | 59.2 | 39.4 |
What Is An Ounce?
The ounce (abbreviated as "oz") is a unit of measurement for weight and volume. In the UK, the imperial system is used to measure ounces, where 1 ounce equals 28.35 grams. In the US, the customary system is commonly used, which measures an ounce at 28.3495231 grams.
In terms of volume measurements, 1 fluid ounce is equal to 1/16th of a quart or 30 milliliters in both systems. It's also equivalent to 1 shot in alcoholic beverages – 1.5 ounces in total in the U.S., while 1 ounce in Britain and Canada. The origin of this unit dates back to ancient Rome when it was derived from "uncia", meaning 1/12 of a copper bar measuring an inch in length and an ounce in weight.
Today, the ounce is widely used when setting recipes or prescribing medication due to its precision and accuracy. It's also used for everyday items such as grains, produce, and liquids like water. In general, the ounce is a valuable tool for consideration when weighing or measuring out amounts of any substance.
What is a Milliliter?
A milliliter (mL) is a metric unit of volume. It is equivalent to one cubic centimeter and is equal to 1/1000 of a liter. The symbol for milliliter is mL and it is typically used in the measurement of liquid substances such as water, milk, juices, etc. Milliliters are also used to measure medications or other small amounts of substances that may be difficult to measure accurately with larger units like cups or tablespoons.
Knowing how to convert different measurements into milliliters can help ensure accuracy when measuring medications, liquids, or other substances. Additionally, understanding the concept of a milliliter will make reading labels on food packages and household containers much easier as most products list their contents in milliliters.
Why Are Bottles 750 ML?
The 750 mL bottle size was developed as a way to bridge the gap between imperial and metric measurements. It is close enough to the 1/5 gallon size that it was accepted by liquor producers, wholesalers and retailers as an efficient way of doing business. The 750 mL bottle contains 17 standard shots, making it a convenient size for both small and large gatherings. Since its introduction, this has become the most popular size for bottles of spirits and wine in the United States.
Its popularity continues to spread across international markets as well. The convenience of 750 mL bottles makes them attractive for consumers who want just enough liquor to get their party started without having to commit more money than necessary. With these benefits comes an added responsibility – knowing when it's best to enjoy your favorite spirits and wines responsibly. With proper knowledge of the effects of alcohol, responsible consumption can be enjoyed in any setting.
Why Does Europe Have 700 Ml Bottles?
The 700 ml bottle has become the standard format for European alcohol because of the convenience it offers not only to consumers, but also to producers and retailers. This uniform size ensures that bars, pubs, and other establishments can easily serve spirits in pre-measured amounts without any extra effort or cost. Additionally, it makes the calculation of duty on alcoholic beverages much easier since taxes can be applied uniformly across all containers.
This standardization benefits everyone involved in the production, sale, and consumption of alcohol. Consumers benefit from a consistent serving size which eliminates any confusion over quantity when ordering drinks. Producers benefit from a simplified system for calculating duties owed on their products. And retailers benefit from increased efficiency when selling spirits by eliminating the need to measure out small amounts every time a customer orders.
Overall, the 700 ml bottle is an excellent example of how standardization can benefit the industry, streamline operations and save consumers time and money. Not to mention it helps keep those fine Scottish whiskeys in business!
With its efficiency, convenience and cost-effectiveness, the 700 ml bottle remains the European alcoholic beverage container of choice for producers and consumers alike. Thanks to this smart practical solution to taxation and serving issues, Europe's alcohol industry has been able to thrive while keeping things simple. And that's something everyone can raise their glass to!
Why Is A Shot 1.5 Fluid Ounces?
In the United States, a shot is 1.5 fluid ounces and it is considered to be the standard serving size for liquor drinks, such as whiskey or vodka. This measure has become so ubiquitous that many people don't realize that this isn't actually an official measurement adopted by the US government.
Although no one can say with certainty why 1.5 ounces became the accepted measure of a shot, one possible explanation could be found in Utah—the state with the lowest per capita alcohol consumption rate in the US. The state officially adopted 1.5 ounces as their standard measure for a shot back in 1978, which seems to have carried on into other states and eventually become an accepted norm across the country
Interestingly, many other countries still measure their shots in different amounts. For example, in the UK the standard measure for a shot of liquor is 1 fluid ounce, while in Japan its 25 ml (0.8 ounces). This just goes to show that even though 1.5 ounces has become the accepted norm for a shot in the US, it's not necessarily true around the world.
Additionally, some bars have recently started posting that their drinks contain only 1.25 fluid ounces of liquor as opposed to 1.5 ounces—so be sure to keep an eye out! Ultimately, there may never be an official answer as to why 1.5 ounces became the standard serving size for a drink of liquor, but it's clear that this measure has become a staple in US culture.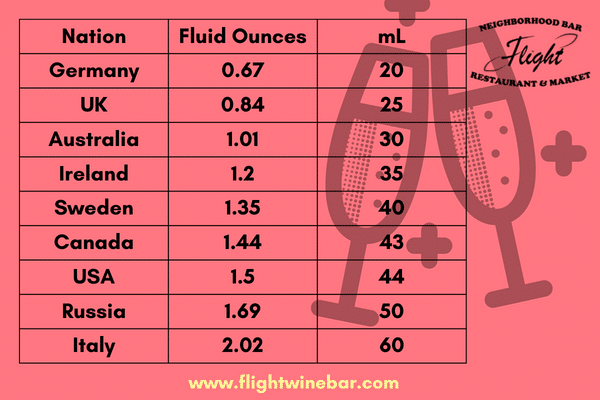 It's fascinating to observe the preferences of Germans and Brits in terms of alcohol servings. The legendary German beer mug at Oktoberfest holds a whopping 1 liter, while the British insist on measuring beers in their distinct 20-ounce pints. Yet, curiously enough, these nations – famed for their passion for larger beer servings – opt for rather modest-sized shots. Quite an intriguing conundrum, wouldn't you agree?
Where Did The Name Shot Glass Come From?
In the 18th Century, the shot glass became a more common item for households and bars. People used them to measure spirits for drinks more accurately than before. There is also a widespread belief that the original shot glasses were made from clay which was eventually replaced by glass.
Different sizes of shot glasses have evolved over time in many different countries. In some places, such as Japan, they are tall and slender while others are short and wide like traditional shot glasses found throughout North America. No matter their size or shape, one thing remains constant—they are all used to commemorate special moments with friends over shots of your favorite beverages!
Shot glasses also make great gifts; you can customize them with engravings or etchings of your choosing. They are the perfect way to commemorate any special event or moment! So next time you're looking for a unique gift, consider a shot glass!
Advantages of Converting Milliliters to Ounces:
Converting milliliters to ounces is an important step for businesses, especially those in the food and beverage industry. It ensures that accurate measurements are taken when preparing recipes and helps companies track their costs accurately. Converting milliliters to ounces can also be helpful for consumers who need to compare products or compare prices on items based on volume. By converting from milliliters to ounces, it is easier to make informed purchasing decisions.
Furthermore, converting between these two units of measurement makes it easier to calculate how much of a product needs to be used in order to achieve desired results. This can save time and money by preventing over-ordering or under-ordering of ingredients. Ultimately, converting milliliters to ounces can save businesses money by promoting accuracy when measuring ingredients, and help consumers make accurate comparisons between products. Knowing how to convert from one unit of measurement to the other is essential for businesses and consumers alike.
FAQs of How Many Ounces Are In 750 ml:
What is 750 ml in ounces?
750 ml equals 25.36 ounces.
Is 1 liter equal to 1000 milliliters?
Yes, 1 liter is equal to 1000 milliliters.
How many cups are in a gallon of water?
A gallon of water contains 16 cups.
How many milliliters are in a cup?
There are approximately 240 milliliters in one cup.
What is the equivalent of 500 ml in ounces?
500 ml is equal to 16.91 ounces.
Is 600 milliliters equal to 2 cups?
Yes, 600 milliliters is equal to 2 cups.
What is the equivalent of 250 ml in ounces?
250 ml is equal to 8.45 ounces.
How many liters are in a gallon?
There are 3.785 liters in one gallon.
How many milliliters are in a liter?
There are 1000 milliliters in one liter.
How many ounces are in 1.5 liters?
1.5 liters is equal to 50.72 ounces.
How many ounces are in a quart?
A quart contains 32 ounces.
How many milliliters are in a tablespoon?
There are approximately 15 milliliters in one tablespoon.
How many ounces are in a pint?
A pint contains 16 ounces.
How many teaspoons are in a tablespoon?
There are 3 teaspoons in one tablespoon.
How many milliliters are in a teaspoon?
There are approximately 5 milliliters in one teaspoon.
What is the equivalent of 3 cups in ounces?
3 cups is equal to 72 ounces.
How many water bottles equal a gallon?
Generally speaking, one gallon is equal to about 16 cups, which can be further broken down into 4 quarts or 8 pints. In terms of water bottles, this means that one gallon is equal to approximately sixteen 16-oz. water bottles, or twenty-four 12-oz. water bottles and forty-eight 8-oz water bottles.
To help visualize this number, consider the fact that a 16-oz bottle of water contains half a liter and that there are 3.79 liters in each gallon – meaning it takes roughly 7 ½ of these standard sized (16 oz.) bottled waters to make up a full gallon. Although other size containers may vary slightly in volume since they are not exactly standardized across all brands and countries, these figures serve as an adequate approximation when discussing gallons in terms of common liquids such as drinking water.
How much is 32 oz of water in cups?
32 ounces of water is equal to 4 cups, according to US customary units of measurement. This is consistent with the common conversion from fluid ounces (fl oz) or ounces (oz) to cups, wherein 1 cup is 8 fluid ounces.
When converting other measurements for volume such as gallon (gal), quart (qt), and pint (pt), the same ratio applies. For example, 1 gallon equals 16 cups; 1 quart equals 4 cups; and 1 pint equals 2 cups.
It's important to note that this ratio only applies when measuring liquids in US customary units of measure. When using metric math conversions such as liters and milliliters, a much different conversion rate will be used which should not be confused with the rate mentioned above.
Additionally, you must also consider density when converting between volumes because the amount of an ingredient contained in a given amount can vary significantly depending on its density – meaning one cup may hold less than 8 liquid ounces if it's a heavier-than-usual substance like honey or molasses versus water or olive oil for instance!
How many ounces in a half gallon of water?
A half gallon of water is equal to 64 fluid ounces. To better understand, 1 gallon of water is equal to 128 fluid ounces. Therefore, when you divide the number in half, you get 64. This means that a half gallon contains exactly 2 quarts or 8 cups and each cup holds 8 fluid ounces of water.
It's important to note that when it comes to capacity measurements, such as gallons and quarts, they only measure volume (e.g., how much space a liquid occupies), while ounces are used for measuring weight (e.g., how heavy an object is). While both are comparable in volume measurements (1gal = 128oz), the weight will differ based on the specific substance being measured since different substances have different densities or weights-per-unit-volume – 16oz of feathers will weigh less than 16oz of lead, for example.
The metric system also uses liters as its unit for capacity measurement; however one liter is equivalent to 33.814 US fluid ounces so if you're working with metric measurements then 4 liters would be equal to 135 fluid ounces or about 1 gallon and 3/4th quart (2 qt + 12 oz). So essentially the answer converts from either US customary units or Metric regardless of which system you're using: a half gallon contains 64 US fl oz or 4L/135mL metric units respectively!
How many oz in gallon of milk?
A gallon of milk contains 128 fluid ounces. This is equivalent to 3785.411784 milliliters, or 3.785411784 liters, making it a convenient way to measure and purchase large quantities of milk. For comparison, a quart of milk would contain 32 fluid ounces, which is about 946.352946 milliliters or 0.946352945 liters; conversely four quarts would equal one gallon in volume. To further break down the measurement, one cup of milk is equal to 8 fluid ounces or approximately 237 milliliters (0.237 liters).
It's important to remember that the specific quantity may vary slightly based on what type of milk you're purchasing and from where you buy it – for example organic vs non-organic varieties may differ in their total volume measurements slightly due to processing methods used by different brands and farms producing the product. Moreover, different states also have varying regulations regarding exact containers required for distribution purposes – these can also impact how much liquid a given container actually holds (and thus how many ounces are contained within each unit).
Conclusion:
Knowing how to make conversions between different measurement systems is essential in culinary, baking, mixology and more. With this blog post, you now know why this conversion between milliliters (mL) and fluid ounces (fl oz) matters, what the difference between metric and customary U.S. measurements are, and how to make the conversion from 750 mL to fl oz.
When faced with an unfamiliar measurement unit in a recipe or ingredient list, you'll now be able to feel confidently empowered to figure out an equivalent that works for you—and be rewarded with some deliciousness! But remember: Just because you know the math doesn't mean that a pinch of sea salt can't turn any dish into something extraordinary. Measuring isn't everything—but feeling comfortable in the kitchen certainly won't hurt!