The Best Electric Wine Chiller Reviews 2023 – Advanced Tips
The best electric wine chiller is practically a must-have when you love hosting summer parties or special dinners at your home. Perfect for wine enthusiasts, an electric wine chiller is the best and fastest way to enjoy a bottle of refreshing reds, whites, and sparkling wines.
There are many people who love wine and enjoy it with their meals but do not like the idea of having to wait for their red wines to cool down before they drink them. For those people, there is a solution: an electric wine chiller!
This post will offer some great information on how electric wine chillers work, what features you should look for when shopping for one, and which ones are currently considered the best on the market. It also includes reviews from experts in the field to help you make your decision.
If you're looking for the best electric wine chiller reviews, then you've come to the right place. In this blog post, we'll provide an overview of the top three models on the market and share some advanced tips on how to get the most out of your wine chilling experience. So whether you're a beginner or a seasoned pro, read on for must-know info!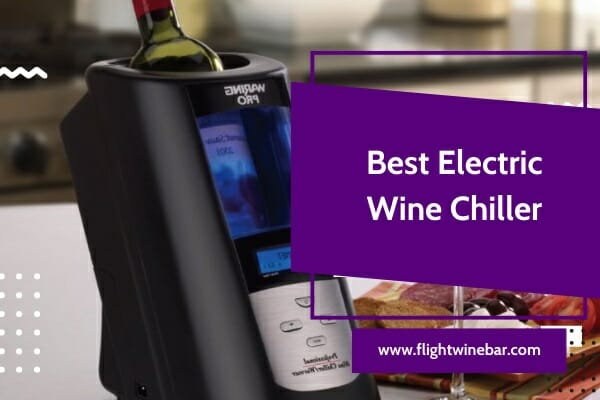 They could chill at least four wine bottles in an hour so you could have more time serving and enjoying wines and less time preparing them. Read on to know more about electric-powered wine chillers and why it's the best item to add up to your kitchen for the coming holidays.
1. Electric Wine Chillers: Rapid Chillers for the Unexpected Guests
You're still busy in the kitchen when you heard the bell. Guests came early; while you have the gourmet crackers, French cheeses, fruit pastes, and, even the wine flutes all ready at the table, nothing's really worse than having to serve a wine that's not at its best temperature. And, stuffing the wine bottles directly into the freezer and, then, getting it down to a sub-Fahrenheit of chillness is simply unthinkable.
It does not only offset the natural acidity and balance of the wine, it also ruins the aroma and flavor and even risks exploding the cork when you're trying to pop it off.
Moreover, electric wine chillers are one of the best rapid chiller innovations: it cuts chilling time by half, accurately set the best temperature for a bottle, and even maintain it in its pre-existing temperature.
One of the best models of electric chillers is designed to spray a mist of moist directly into the bottle until it reaches the temperature that you have specified using the control. So, there are those that utilize the Peltier effect in chilling and cooling a bottle down: these wine chillers are designed with the thermoelectric technique that produces the specified temperature through metals.
2. Recommended Electric Wine Chillers for Beginners:
For beginners, we recommend shopping for those with a pre-programmed temperature setting so you could confidently serve a bottle like a pro.
With a programmed setting for varieties of grapes, all you need to do is select the specific wine type that is shown in the digital display and you're all set to serve a perfectly chilled or cooled down bottle of wine. You can also purchase a wine fridge cabinet to store your wine collection.
1) Cooper Cooler Rapid Beverage & Wine Chiller
Cooper Cooler Rapid Beverage & Wine Chiller. Besides, a compact and stylish item that you can confidently display on your counter. The Cooper Cooler Rapid Beverage & Wine Chillerquietly and efficiently chill refreshing wines and warms red using the Revolutionary Cooling Systems. So, its best features: a pre-programmed temperature setting for a number of popular wines and an electric wine chiller canister wide enough that could house in even a champagne bottle.
For those of us who love wine, be it with our meals or just a casual glass among friends, we can also appreciate its presentation. Wine has to be chilled properly to accentuate its taste and maintain its texture and aroma.
It was not meant to be warm as it takes away from its appeal. But there are times when we do not have adequate time to properly prepare a bottle before it is needed. That is where the Cooper wine bottle chiller comes in. It will both solve your dilemma and save your evening.
The old fashion way to chill a bottle of wine was to submerge it in ice and wait. And wait. And then check it to see if it was the right temperature. Well, you don't always have that luxury.
This electric wine chiller takes the guesswork out of speeding up the process and delivers a consistently chilled bottle every time. And it comes in handy when unexpected guests arrive or you have to throw a party together at the last minute.
Their unique patented design allows you to chill a bottle of wine up to 10 times faster than your standard freezer. Refrigerators can make certain wines too cold to serve. Plus, it is an excellent way to free up refrigerator space. No need to keep an assortment of different varieties taking up valuable frig space when you can pop in the appropriate bottle in just a few minutes.
A standard temperature can be reached in approximately six and a half minutes. Or to an ice-cold temperature in twice that. The actual breakdown is 68 degrees in one minute, 53 degrees in three and a half minutes, and 43 degrees in six minutes.
The most efficient way to chill is to spray the bottle with cold water while it is spinning, but if you prefer you can use the "no spin" option to eliminate worry. To start, all you do is put in two trays of ice and two glasses of water.
It does not have to be cold water, either, so regular tap water is fine. Your bottle is chilled 90 times faster than a refrigerator and 40 times faster than a freezer. And it even comes with an indicator that lets you know when to add more ice.
As for selections, it comes in white, standard silver, and the tailgater silver version. This electric wine chiller is very reasonably priced and is an all-around must for every home, and will pay for itself in no time with on-demand cool wine. See for yourself: the Cooper wine chiller is an all-around great idea.
Pros and Cons:
2) Waring Pro RPC175WS Wine Chiller
Waring Pro RPC175WS Wine Chiller. An elegant and sleek chiller, the Waring Pro Single Bottle Wine Chiller is designed for both cool whites and even red wines. So, we love this item as it features one of the largest databases of wines. Besides, its pre-programmed temperature setting has in it a total of 33 varieties of reds, whites, and champagnes.
Its super cool blue LCD screen looks elegant against its black canister. Some downside: quite noisy as compared to other brands; the temperature sensor also picks up its surroundings'. And its 3.5 diameter limits its capacity to accommodate only a 750ml bottle.
This wine chiller is perfect for collecting red, white, and champagne wines at their optimum temperature without having to purchase an additional appliance. There are 33 preset temperatures on the internal microprocessor database of red-, white- and champagne wine, so it's never too warm again.
It's the perfect addition to the latest trend in your home entertaining, hosting events. Keep a bottle of wine or champagne at its precise serving temperature with this easy-to-use Waring Pro Wine Chiller/Warmer that features 33 professional temperature controls.
The DF175 accommodates bottles up to 3 1/2″ in diameter and keeps them at an optimal cooking temperature for hours after opening so you can serve your guests in style -time after time! When not being used for entertainment purposes, it's a great appliance to have on hand in any kitchen when precision is important!
So put this high-power Waring Pro electric wine chiller on your list of must-have pieces to bring out your inner hostess with flair!
This sleek wine chiller from Waring Pro is a powerful appliance that manages the temperature to keep your bottle at optimum freshness. You get a great view of your bottle while it's being chilled, and there are individual settings for reds, whites, and tap water.
The Wine Chiller has been made with an adjustable 3-speed cooling system and digital temperature control so you can customize the chill to suit any bottles you're entertaining in time for New Year's Eve celebrations!
Pros and Cons:
3. Buying Guides:
When you're planning to buy an electric wine chiller for your home or office. There are a few things that you might want to consider first. Although they are relatively inexpensive, the main thing to remember is that you will need to take into account the room size where you intend to put it and any other special requirements that may be required by the specific model you choose.
As electric chillers can cool a much larger area than traditional types of coolers. Besides, you usually recommend that you buy one that will fit into the area you have available. Still, you should also know what sort of electricity sources you'll need for it to run, just in case. Depending on how you heat your space, you may need a different size than others.
The first thing that people often ask about when it comes to these machines is whether there are any cons to be had using one. Well, of course, in many cases, this simply isn't the case, with the most common one being that the unit itself is relatively small, meaning that it can fit in most spaces.
Most electric wine chillers are relatively small in size, meaning that you don't need a whole lot of room to fit one in. This is excellent news for anyone that needs to fit a large cooler into their kitchen. Or even a bathroom, as these models are often only a couple of inches thick. Of course, the biggest con is that you will need a constant power source. But, this is something that most models powered by electricity will come with anyways.
4. FAQs Of The Best Electric Wine Chiller

:
What is an electric wine chiller?
An electric wine chiller is a metal bag containing special cooling fluid and two tubes, one for the cold fluid and another to pump in the air. It's used to cool white wines at home without using ice or putting them in the fridge.
When was the electric wine cooler developed?
The electric wine cooler was developed as early as the 1970s by physicist Norman Hackerman.
How does an electric refrigerated wine chiller work?
Electric refrigerated wine chiller works through this process: Inside the unit, a copper tube is filled with a water-based cooling agent, such as ammonium nitrate solution, which circulates around the second copper tube. This "capsule" is kept under pressure, forcing the cooling liquid through the tubes.
As electric current is passed through these two coils together, the cold electric current from one coil causes a similar electric current to move in the other coil as well – this being how electric refrigerated wine chiller provides an exchange of energy to produce its cooling effect.
As this takes place inside the container, the outside contents – i.e. white wines – are cooled as well. In fact, the electric refrigerator has been tested and has successfully lowered wines' temperature down to 55°F (12°C) within 90 minutes!
How long does an electric wine chiller take to cool down white wines?
Electric refrigerator works very quickly – it can cool down white wines within 90 minutes! So you don't need to go out of your way just for this purpose. You just have to find the best electric wine chiller that suits you best.
What kind of wines do electric wine chillers work with?
Though an electric refrigerator is best for storing white wines, it can also be used to store red wines
What are the benefits of an electric wine chiller?
There is no need to use ice. Electric wine chiller keeps the taste of wine same as traditional ways. It's fast and good for white wines.
Best electric refrigerated wine chiller reviews show electric wine chiller's advantages :
No more ice is needed.
Red and White can both be stored in an electric refrigerator (unlike a regular fridge).
Electric wine chiller is fast – works within 90 minutes.
Electric wine chiller has a big temperature range (3~15°C).
Electric wine chiller systems are more power-efficient than traditional refrigerators, which saves electric bills.
The best electric wine chiller can help you save time, money, and hassle. It's easy to use electric cooling agent fluid capsules instead of ice cubes.
The electric wine chiller is easy to move around with its wheels.
The electric refrigerator works very quickly – it can cool down white wines within 90 minutes! You don't need to go out of your way just for this purpose. You just have to find the best electric wine chiller that suits you best.
What's the difference between electric wine chillers and regular fridges?
The electric cooler bag has two coils (one surrounding the other): cold coil emits cold throughout the electric fluid inside the container; hot coil emits electric current to change electric fluid into gas, which further cools the electric fluid. The regular fridge has only one coil inside, which emits cold throughout the bottle.
How much electricity does an electric wine cooler consume?
Compared with a regular refrigerator, an electric fridge consumes less power per unit of time.
Which wines are best suited for chilling in an electric wine chiller?
An electric wine chiller is a great way to quickly chill your wine. But not all wines are suited for chilling in an electric wine chiller.
Red wines, such as Cabernet Sauvignon and Merlot, are best served at room temperature. So they are not ideal candidates for chilling in an electric wine chiller.
However, white wines, such as Pinot Grigio and Sauvignon Blanc, are perfect candidates for chilling in an electric wine chiller. In fact, chilling these types of wines can help to enhance their flavors.
If you're looking to buy an electric wine chiller, be sure to check out the variety of models available on the market. You're sure to find one that's perfect for your needs.
How much electricity does a wine fridge use?
Wine fridges are becoming increasingly popular as people look for ways to store their wine collections. But how much electricity do these devices use?
The answer depends on the size and type of wine fridge you have. A small, under-counter wine fridge can use as little as 50 watts of power, while a larger unit can use up to 150 watts. The average standard refrigerator uses about 1,200 watts.
So, a wine fridge uses significantly less energy than a standard refrigerator. However, it's important to keep in mind that the actual amount of electricity your wine fridge uses will depend on how often you open it and how long you keep it running. If you open your fridge frequently or keep it running all the time, it will use more electricity than if you only turn it on when you need to access your wine collection.
To help save energy and money, look for a wine fridge that is Energy Star certified. These devices meet strict energy efficiency standards set by the US Environmental Protection Agency.
Do wine coolers use a lot of electricity?
As with any appliance, the answer to this question depends on the model and size of the wine cooler. Generally speaking, wine coolers use less electricity than many other appliances, such as refrigerators. However, if you are considering purchasing a wine cooler, it is always a good idea to check the energy efficiency rating to be sure. Energy efficient models will use less electricity and help you save money on your utility bills.
How to use an electric wine chiller?
An electric wine chiller is a great way to keep your wine at the perfect temperature. Here are a few tips on how to use one:
Choose the right size chiller for your needs. If you plan on chilling multiple bottles of wine, make sure to get a chiller that is large enough to accommodate them.
Place the chiller in a cool, dry place. Avoid placing it in direct sunlight or near heat sources as this can cause the wine to heat up too quickly.
Fill the chiller with ice and water according to the manufacturer's instructions. This will help keep the wine at a consistent temperature.
Place your bottles of wine in the chiller and allow them to chill for the desired amount of time.
5. Conclusion:
If you are in the market for a wine refrigerator, then it's best to start your search at either a department store or supermarket. These retailers typically have the widest range of models to choose from, and you can also find some good deals online. Just be sure to do your research before buying, so that you get the right unit for your needs. A wine refrigerator is a great addition to any kitchen, and it will help keep your wines chilled and ready to drink.
The best place to find an excellent electric wine cooler is from either a department store or a supermarket, as these will typically have a wide range to choose from. If you do your research online, you should also be able to find some pretty good deals.
Many of these units will include a fridge as well, which will allow you to keep chilled bottles of wine on hand. And you won't need to worry about running out of room to store the bottles. So for those that enjoy a good glass of wine with dinner, a refrigerator is a must.