Kraken Rum is one of the most famous and popular rums out there. It has a unique flavor that sets it apart from other rums and its distinct black bottle makes it stand out in any bar or liquor store. But who exactly makes Kraken Rum? In this blog post, we will explore the story behind Kraken Rum – from its founding to what goes into making it, so you can learn more about why this delicious rum is worth loving. Let's dive right in!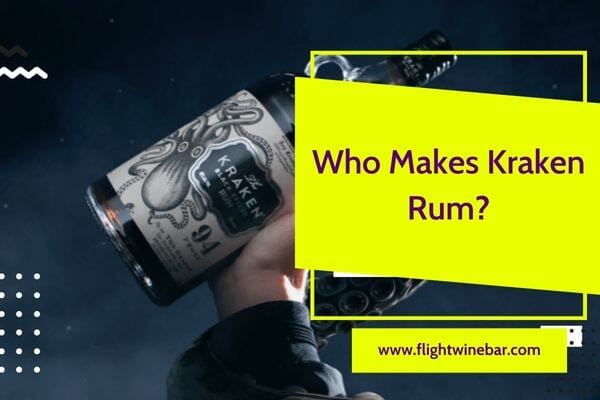 Kraken Rum is an intense and bold dark rum that will take any cocktail to the next level. It's made with a blend of molasses and Demerara sugar, aged in oak barrels for at least one year, and has a smooth finish with hints of coffee, chocolate, and spices. Try it neat or on the rocks, or use it to add some depth and flavor to classic rum cocktails like the Mojito, Daiquiri, or Piña Colada. Enjoy Kraken Rum responsibly and let its unique boldness take you on an unexpected journey of discovery. Sail into uncharted waters and explore the mythical world of the Kraken!
Kraken Rum has been making waves since 2009. The Trinidadian distillery is known for its distinctive spiced rum, which has become a staple in many bars and homes around the world. Since 2009, Kraken has offered up a wide range of products, from classic dark and spiced rums to limited-edition specialties like Black Spiced Rum and White Spiced Rum.
Whether you're looking for a classic rum, something unique, or just want to try something new, Kraken has everything you need. With its flavorful profile and unique packaging, it's easy to see why Kraken is one of the most sought-after rums in the world.
Kraken Black Spiced Rum is the perfect spirit to add some kick to your cocktails. Whether you're looking for a unique twist on an old classic or crafting something entirely new, Kraken Black Spiced Rum has the bold flavor that will make any cocktail stand out from the crowd.
Now available in 0.7L (40% volume) and an upcoming 1L (40% volume) bottles, Kraken Black Spiced Rum has been perfecting the art of creating memorable drinks for years. But if you're looking to really turn up the heat, then you'll want to check out our brand new Kraken Black Spiced Rum 1.0L (47% Vol.) bottle. With its intense flavor and added fire, this is the spirit that will take your cocktails to the next level.
This 40% abv strength rum is made from a blend of blackstrap molasses, spices, and other ingredients. It has intense aromas of burnt caramel, toasted coconut, nutmeg, cardamom, clove and vanilla. On the palate it has a bold flavor profile that immediately envelops you in warmth and sweetness; notes of dark chocolate, smoke, and roasted espresso beans linger in the background. The finish is long and spicy, with a hint of smokiness and sweetness.
The Kraken is a smooth, delicious rum that is perfect for sipping or mixing into cocktails. It has an intense aroma of molasses and spices, with hints of cinnamon, ginger, clove and vanilla. Its flavor profile is sweet and spicy, with notes of caramelized sugar, licorice, oak wood and a slight smokiness. The finish is long and lingering, with a touch of sweetness. It pairs well with almost any mixer, from cola to ginger beer. The Kraken is an ideal choice for a relaxing evening or special occasion.
Does Captain Morgan Make Kraken Rum?
Although the recipe for Captain Morgan rum is kept under wraps, aficionados have deduced that the rum contains a blend of spices and molasses. It has a sweet flavor with notes of oak, vanilla, citrus and cinnamon. While there is speculation about what exactly goes into the making of Captain Morgan rum, it is generally agreed that kraken rum is not one of the ingredients. That being said, Captain Morgan is a brand that creates interesting drinks and there are many variations on traditional recipes to be found out there.
Kraken Black Spiced Rum is a popular rum that has become increasingly well-known as more people discover its unique flavor. Its distinctive flavor comes from the blend of molasses aged for one to two years in Trinidad and Tobago, plus eleven additional spices added to create a sweet taste.
Captain Black refers to the spiced rum as Double Charred Blackened Oak, and its unique flavor profile includes notes of vanilla and clove. This rum is believed to have been specifically designed to compete with the popular Kraken sea creature brand, making it a great option for those looking for a flavorful alternative.
Barritt's is also a great ginger beer for making Dark 'n Stormy. It has a sweet, slightly spicy taste with a hint of citrus and notes of ginger. The aroma has hints of orange and cinnamon that make it perfect for mixing into the classic cocktail. The Captain Morgan Black Spiced Rum works best with Bundaberg ginger beer. The rum has a smoky flavor with notes of oak, vanilla and cinnamon that pairs wonderfully with the sweet and spicy taste of Bundaberg.
The combination is truly unique and delicious, making it an excellent choice for your next Dark 'n Stormy. Remember, when it comes to creating a great Dark 'n Stormy, there is no right or wrong answer. Experiment with different rums and ginger beers to find the perfect combination for you.
Sir Henry Morgan's legacy lives on today in the form of the famous rum that bears his name. A blend of Caribbean rums aged in charred oak barrels, Captain Morgan has a sweet, smooth taste with hints of molasses and vanilla. This makes it perfect for mixing into cocktails, as well as enjoying neat or over ice.
And with its signature label featuring the iconic portrait of Sir Henry, it is a great way to celebrate his legacy. But Captain Morgan isn't just a rum – it is also an experience that captures the spirit and adventure of Sir Henry himself. So raise a glass to the legendary Welsh privateer, and enjoy every sip of this exceptional rum.
Diageo's commitment to sustainable rum production is a win-win for everyone involved. The new plant in the U.S. Virgin Islands will create more local jobs, while also providing consumers with a product that has been manufactured using greener and more renewable resources. This means that Captain Morgan fans can still enjoy the same great taste they know and love, while also knowing that the rum is produced in an environmentally conscious way.
Diageo's commitment to sustainability shows that it is possible to produce high quality products without sacrificing environmental principles. It is a shining example of corporate social responsibility for other companies to follow.
The Kraken Rum: A Spiced Rum Worth Sipping
Kraken Black Spiced Rum is an ideal drink for any occasion. With its black ink hue and bold flavor, it's perfect for sipping neat or mixed in cocktails. The rum has a deep amber hue from the Caribbean spices used to craft the unique spiciness of this beverage. When served neat, you can taste notes of clove, cinnamon, nutmeg, and vanilla. When mixed with other ingredients, Kraken's spices add an extra layer of complexity to the flavor. Whether it be sipped on its own or mixed in a cocktail, Kraken Black Spiced Rum is sure to provide a delightful drinking experience.
Conclusion:
So, there you have it – the story of Kraken Rum. From its beginnings as a black spiced rum created by two friends in the Caribbean, to its current incarnation as one of the most popular and best-selling rums on the market, this spirit has come a long way. If you're looking for a delicious rum with a unique flavor that is sure to stand out, then Kraken Rum is the perfect choice for you. Who knows – after learning about its history and what goes into making it, you may just find yourself becoming a true fan of this delicious rum.