Looking for a wine cooler that doesn't take up a lot of space? The Koolatron WC20 could be the perfect choice for you. This cooler is small enough to fit on a countertop, and it comes in at a price that won't break the bank. But does the Koolatron WC20 really deliver when it comes to cooling your wine? Keep reading for our full review.
Product Description:
This thermoelectric cooling system is state-of-the-art, providing enhanced performance and temperature management in a compact footprint. It can reliably cool to 46-66°F (8-18°C), with no vibrations, making it ideal for wine storage. The digital thermostat and LED interior lighting let you easily monitor and adjust the temperature to ensure your wines are being stored properly. The sleek black design with stainless steel trim will look great in any home, and the unit comes with a one-year warranty for peace of mind.
With its touch screen controls and digital display, you can easily view and adjust the temperature or turn the interior light on or off without opening the door. This means that the cool air stays inside your wine cooler where it belongs, keeping your wine at the perfect temperature.
The Koolatron WC20 Wine Cooler has a capacity of 20 bottles, so it's perfect for both small and large collections. It also features a stylish black finish that will complement any home décor.
This compact freestanding wine cellar can be placed anywhere there is a power source, so your wine collection is always close at hand. The Koolatron WC20 Wine Cooler features two temperature zones, so you can store both red and white wine at the ideal temperature. The digital touch control panel makes it easy to set and monitor the temperature, and the LED lighting ensures your wine looks great on display. The Koolatron WC20 Wine Cooler also has a lockable door to keep your wine collection safe and secure.
Wine cooler that can protect your wine collection from harmful UV rays. This double-paned mirrored glass door wine cooler features soft interior lighting that highlights your wine collection without being too harsh or bright. The Koolatron WC20 also features adjustable shelves, so you can customize the storage to fit your needs. And with a 20-bottle capacity, this wine cooler is perfect for small to medium-sized collections.
One of the best things about the Koolatron WC20 Wine Cooler is its energy efficiency. This wine cooler uses less power than traditional models, which means it'll save you money on your utility bills. And because it doesn't produce vibration, your wine will stay perfectly still while it chills.
This unit includes five stainless steel racks, each designed to hold four Bordeaux bottles, that can be removed to fit larger bottles and non-standard shapes. Additionally, the temperature can be set between 54 and 66 degrees Fahrenheit, making it ideal for red or white wines.
One thing to note is that this wine cooler is not meant for long-term storage. So if you're looking for a unit to age your wines, you'll need to look elsewhere. But for short-term storage or serving, the Koolatron WC20 Wine Cooler is a great option. With this Koolatron wine cooler will help you store your precious wine bottles in the best way.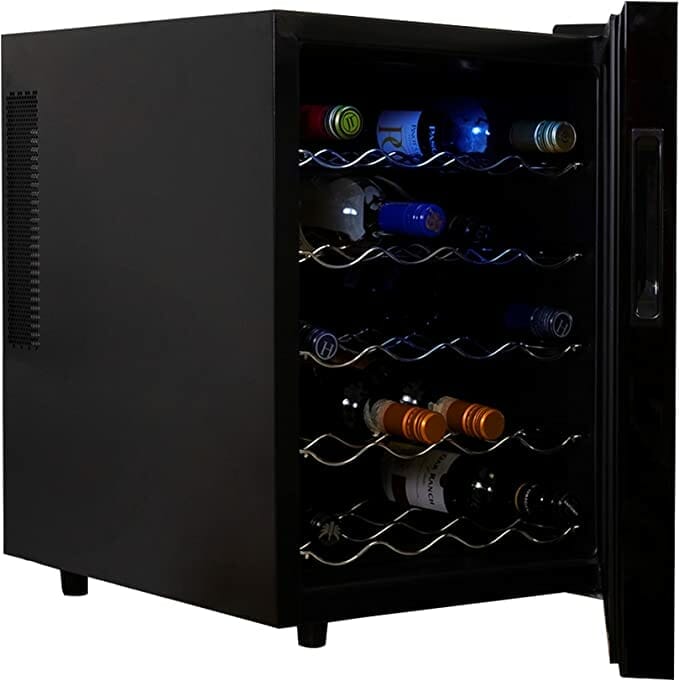 Pros and Cons:
Watch Koolatron WC20 Wine Cooler Video:
Most people know that wine goes well with food, but what about wine coolers? The Koolatron WC20 is a great way to keep your whites and reds at the perfect temperature, whether you're entertaining guests or just relaxing at home by yourself. In this video review, we'll show you how the Koolatron WC20 works, and how it can help you store and serve your favorite vintages. Stay tuned!
Conclusion: Koolatron WC20 Wine Cooler
The Koolatron WC20 is a small and affordable wine cooler that can hold up to 20 bottles of wine. It has an adjustable thermostat and comes with a built-in alarm that goes off when the door is left open. The wine cooler also features a blue LED light that makes it easy to find your wine in the dark. The Koolatron WC20 was very easy to set up. I plugged it in, adjusted the thermostat, and put my wine bottles inside. The blue LED light is really bright and makes it easy to see what's inside the fridge even in the dark.
I love that there's an alarm that goes off if you leave the door open because it helps me remember to close it after I'm done getting a bottle of wine out. Overall, I am really happy with this wine cooler! It's small enough to fit on my countertop, holds plenty of bottles, and keeps my wine at the perfect temperature. If you're looking for an affordable and compact wine fridge, I would definitely recommend checking out the Koolatron WC20 Wine Cooler!