If you love wine, then you know that keeping it at the right temperature is key to enjoying it at its best. But who has room for a full-sized wine refrigerator? If that's the question keeping you from upgrading your wine collection, then worry no more! The Kalamera 46 Bottle Wine Cooler is the perfect size for people who want to store a lot of wine without taking up a lot of space. In this review, we'll take a closer look at the features of this wine cooler and see how it stacks up against the competition.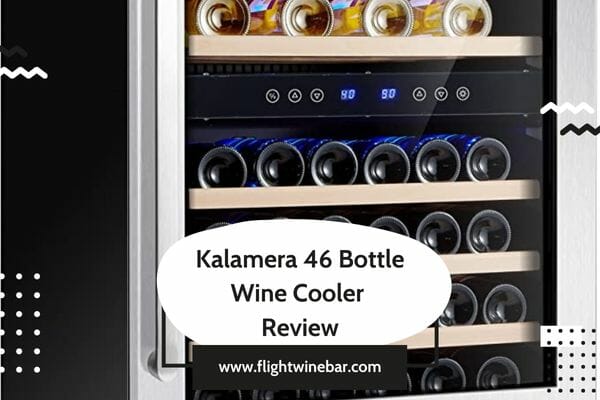 Product Description:
This stylish unit features a seamless stainless steel door and air outlet, which help to stabilize temperature levels inside and keep the glass from fogging. The automatic defrosting function also works every six hours, so you don't have to worry about your wine getting too cold. Plus, the air outlet is cool and fits perfectly in any kitchen.
One of the best features of this cooler is the temperature memory function. This ensures that your wine will be kept at the same temperature even if there is a power outage. This is especially important in areas where power outages are common.
The Kalamera 46 Bottle Wine Cooler also has five wooden shelves that can be removed if needed. These shelves are specially designed to protect your bottles from falling and breaking. They also add an elegant touch to the cooler.
The Kalamera 46 Bottle Wine Cooler is the perfect solution for small apartments or homes with limited counter space. This mini fridge can hold up to 46 bottles of wine, making it ideal for those who have a large collection. The soft blue LED light creates a beautiful environment for your wine, and the temperature can be set anywhere from 41-64 degrees Fahrenheit.
The dual zone thermostat ensures that your wine is kept at the ideal temperature for both red and white wines. The LED control display is easy to use, making it simple to set the temperature for both upper and lower zones. This small wine cooler can be installed as either a built-in or freestanding model, making it a versatile option for any home.  Kalamera wine cooler can also accommodate other drinks, making it a great choice for entertaining. We love the sleek design and modern features of this wine cooler, and think it would make a great addition to any home bar.
The Kalamera 46 Bottle Wine Cooler has a versatile design that allows it to be installed under a counter or used as a freestanding unit. It takes up just 23.4 x 33 x 22.4 inches of space, so it won't take up too much room in your kitchen or bar area. If this doesn't suit your needs, we have other Built In Wine Cooler for you.
Who is it for?
You will be enjoying sipping wine alone or with your friends and associates anytime. This built in wine cooler will help you keep a stock of your favorite wine ready all the time for your personal use in case you will have a small group of guests.
Why you should buy it?
Kalamera 46 Bottle Built In Wine Cooler can store 45 bottles, which allows you to have enough supply for a longer period of time and saves you trips to the wine store. In all, this is one of those coolers which have a great reputation so it's wise if you go with it.
Verdict:
Kalamera 46 Bottle Built In Wine Cooler does best what it is supposed to do, and looks pleasing on the eyes as well. It really is the best of the lot, which is to say, it doesn't have bland features at all. There's no reason why one should ignore it.
Pros and Cons:
Watch Kalamera 46 Bottle Wine Cooler Video:
A wine cooler is a must for any wine lover. If you're in the market for a wine cooler, read on to learn about the Kalamera 46 Bottle Wine Cooler. This wine cooler has many great features that sets it apart from the competition. Watch the video to see for yourself!
Conclusion:
The Kalamera 46 Bottle Wine Cooler is a high-quality wine cooler that will keep your wines at the perfect temperature. This wine fridge has a sleek design and plenty of features that make it a great choice for any wine lover. If you're in the market for a new wine fridge, we highly recommend checking out the Kalamera 46 Bottle Wine Cooler.